Amanda Bibeau is proud to represent Manitoba Turkey Producers on the province's favourite cooking show, Great Tastes of Manitoba. It returns to CTV Winnipeg on September 11th at 6:30 pm and the week to follow on The Rural Channel for viewers across Canada. Join returning host Dez Daniels and local food experts as they use simple Manitoba ingredients to make delicious dishes.
This season, Manitoba Turkey Producers will be featured in two episodes of Great Tastes of Manitoba. The first show airs on October 2nd and features Turkey Soups from Around the World. Don't miss this episode as Amanda prepares 3 brand new recipes! A very special turkey segment will also be featured in the show that you won't want to miss. This episode re-airs on April 23rd, 2022.
The second episode, which airs on November 20th, features Tasty Turkey Tidbits! Join Amanda as she prepares 3 tasty recipes that you will want to try at home. It re-airs on February 5th, 2022.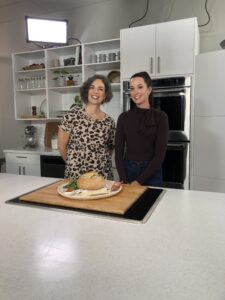 Recipes Coming Soon!